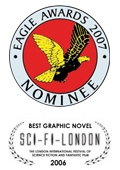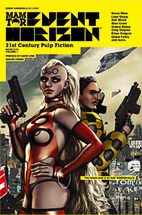 Event Horizon™ 2
Vol.1,book 2 of 12
Cover art by Bagwell
US TPB 208 pages
Retail price: $15.50
Buy Now
The second book of the new break-out anthology! Following on from the sold-out first edition, it showcases the talents of long-time established pros Liam Sharp, Alan Grant, Greg Staples, Simon Bisley, Ben Oliver, Simon Thorpe, Ashley Wood, Glenn Fabry and also upcoming stars like Dave Kendall, Ali Pow3rs, Szymon Kudranski, Mike Raicht, Shane McCarthy, Dan Wickline, Emily Hare and more. It also presents some amazing artist galleries and illustrated text stories. Continue...
Contents
Event Horizon™ 2
Intended audience: Mature Themes
Genre: Anthology
Format: US TPB 208 pages
Retail price: $15.50
Shipping date: November 22nd, 2005
ISBN: 0-9549998-1-99

Viking Zombie Elvis - Kev Crossley
Preface - David Hine
Section one: Fantastic
F***ing Savages - Story: Steve Niles, Art and Words: Liam Sharp
Dragonfly - Kev Crossley
Dustbowl - Text: Roger M. Cormack, Illustrations: Rob Randle
Lorne: The Eagle and the Serpent - Script: Dan Wickline, Art: Szymon Kudranski
Machivarius Point: Mercenaries - Roger M. Cormack, Illustrations: Bagwell
Rumours of Ragnarok: Sea and Thunder - Script: Brian Holguin, Art: Dave Kendall
Section two: Gothic
Ghost Town - Text: Alan Grant, Art: Greg Staples
A Trace of Fragile Bliss - Emma Simcock-Tooth
Grandma's House - Text: Iain Gibson, Illustrations: Emily Hare
Top of the Food Chain - Script: Mike Raicht, Art: Brem
Pacify - Steven Perkins
Section three: Future Science
Wormcast - Script: Ali Pow3rs, Art: Samuel Araya
Number 6 - Matt Dixon
Chase Variant - Script: Rich Johnson, Art: Bagwell
Tom Tom Mocoubre...grid ref-n497s728e551w155 - Dave Taylor
Like a Machine - Script: Raven Gregory, Art: Cardinal
Lap of the Gods - Liam Sharp
Ride Red Ride - Script Shane McCarthy, Art: Chris Bolton
The True Adventures of Jed Lightsear - Text: Ralph R Raims, Illustrations: Bagwell
Necromachia - Script: Liam Sharp, Art: Lee Carter
Artist Showcase
Closing Pandora - Ashley Wood
Trip Trick - Ben Oliver
Simon Thorpe Gallery
Bizness as usual - Simon Bisley
Gail pin up - Patrick J. Clarke
Farthing and Hicks, documenting a comic in the making - by Alan Mitchell and Glenn Fabry
Cover spread - Bagwell
The Devils Arse - Kev Crossley
Endpiece: Viking Zombie Elvis - Kev Crossley


If you have become disillusioned with the current state of comics for intelligent, mature readers and want something more than superheroes, and which caters for your favourite genres then you'll be hard-pushed to find anything more stimulating than Event Horizon.
Sci-Fi-London
Book 2 has grown from book 1: with more Machivarius Point, Jed Lightsear, Necromachia, Fucking Savages, Viking Zombie Elvis, Lorne, Rumours of Ragnorok, A Trace of Fragile Bliss, Wormcast; and all new stories like the new Dragonfly by Kev Crossley, Like A Machine, and Ride Red Ride amongst others.
Event Horizon™ is 21st Pulp Fiction. Storytelling for mature audiences from dark fantasy to hard science fiction.

Related
Mam Tor: Event Horizon™ Book 1
Mam Tor: Event Horizon™ Overview
Mam Tor: Event Horizon™ Reviews
Mam Tor: Event Horizon™ 2 Stories