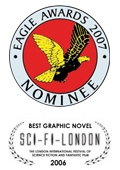 Event Horizon™ 1
Vol.1,book 1 of 12
Cover art by Liam Sharp
US TPB 120 pages
Retail price: $19.95

The innaugural issue of the breakout anthology! Event Horizon showcases some of the best creators in the biz with covers, features, galleries, etc. but it will also give new unseen talent the chance to work alongside, and sometimes with, established pros. Everything within Event Horizon has been produced for love of the medium and is an insight into what creators get up to when left to their own devices. It showcases the talents of long time established pros, such as Ash Wood, Steve Niles, Chris Weston and Brian Holguin - and also new talent, like Emma Simcock-Tooth, Kev Crossley, Dave Kendall and Lee Carter.
Contents
Event Horizon™ 1
Intended audience: Mature Themes
Genre: Anthology
Format: US TPB 120 pages
Retail price: $19.95 (Regular), $21.95 (Deluxe)
Shipping date: May 9th, 2005
ISBN: 0-9549998-0-0

Preface: Douglas Rushkoff
Fucking Savages - Words: Steve Niles, Art: Liam Sharp
Vanishing Herd - Words: Dan Wickline, Art: Kody Chamberlaine
The Gallows God - Words: Brian Holguin, Art: Dave Kendall
Machivarius Point: Avatar - By Roger M. Cormack
Sheriff 13 - Ash Wood
A Trace of Fragile bliss - Words: Ali Powers, Art: Emma Simcock-Tooth
Vengeance - Words: Karl Spracklen, Art: Kev Crossley
Chase Variant - Words: Rich Johnston, Art: Saverio Tenuta
Trip-Tick: Gary Erskine
The Cure - Words: Shane McCarthy, Art: Cardinal
Heinrich Manoeuvre's H.e.a.d Trip!: Chris Weston
Worm Cast - Words: Ali Powers, Art: Samuel Araya
Oneironaut: words and art: Tom Muller
Mongrel Cortex - Words: John Bamber, Art: John Howard
The True Adventures of Jed Lightsear, Space Pirate! - Words: Ralph Raims, Art: Bagwell
Necromachia - Words: Liam Sharp, Art: Lee Carter
Pin Ups
The Midgard Serpent - Dave Kendall
Necromachia - by Brem
Viking Zombie Elvis - Steven Perkins
Cover Art Gallery
Cover Art - Liam Sharp
Cover Art Special Limited Edition - Glenn Fabry
Devils Arse - Kev Crossly
Viking Zombie Elvis (opener and closer) - Kev Crossley
Slick and savage, brutal and beautiful, everything in Event Horizon is gold.
Robert Randle, Diamond Previews

Related
Mam Tor: Event Horizon™ Book 2
Mam Tor: Event Horizon™ Previews
Mam Tor: Event Horizon™ Overview
Mam Tor: Event Horizon™ Reviews